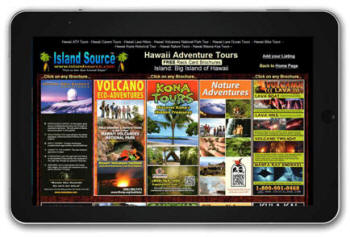 World-Wide Exposure for your
Rack Card Brochure
Fun and Convenient to Browse
"Things to Do" and "Places to Go".
Potential customers can find your rack
card before and during their vacation.
Your brochure can be at travelers
fingertips anyplace, anytime 24/7.
Listing includes a copy of your
brochure, downloadable *.pdf file,
and active links to your website,
reservation page, social media
pages, email, address.. and more
QR Code compatible !
AVAILABLE DISCOUNTS:

Members:



Hawaii Ecotourism Association (HEA)
Non-Profit Organizations

In a Hurry Today?
Then EMAIL US for Express Signup
Just let us know who to contact at your company, and we will follow up to get all the information needed to include your listing.
Affordable Rates ! - JOIN US TODAY!
THE BEST NEW ECO-FRIENDLY WAY
to advertise with your colorful
Rack Card Brochure.
NO Setup Fee!


NO Commissions!


Generates more "Direct Bookings"!

Easy Monthly Billing!


Cancel Anytime!

Dont' Wait! - Limited Time Offer
NEW CUSTOMER SPECIAL
3-Month FREE Trial
AND
50% OFF
for the next 50 Customers
$50.00 $25.00 /month
1-4 page brochure
$70.00 $35.00 / month
5-6 page brochure
$80.00 $45.00 / month
7+ page brochure
EASY MONTHLY BILLING
Cancel Anytime
( Pay by check or credit card )

SAVE EVEN MORE:
Join on a semi-annual basis and receive
1 Month FREE.
Join on an annual basis and receive
2 Month FREE.

CLICK HERE TO
CREATE YOUR FREE ACCOUNT
Once you registered as an owner we will then send you the link where you can easily upload your information and brochure.
( or just send us 2 copies of your rack card brochure in the mail ).

- No Credit Card Required to sign up -

No payment is due
till your FREE Trial Period has ended.
NO TERM CONTRACT
CANCEL ANYTIME
( with monthly billing plan )