Channel Manager - coming soon
Details

Hits: 13645
Do you have your calendar listed on other websites ?
.. Would you like them updated automatically ?
Now You Can Efficiently Manage your Inventory with Island Source & Beds24´s Channel Manager Partnership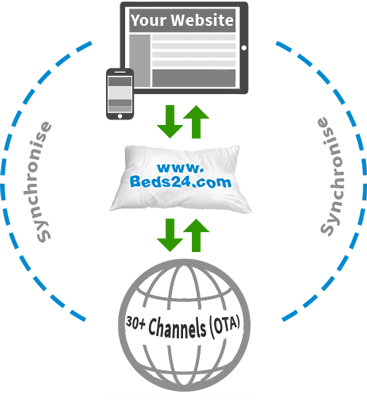 You no longer need to manually log-in and update every web site when you take a new booking.
Island Source, in conjunction with the 24Beds Chanel Management System, does the work for you and links to nearly 40 Outside Booking Engines and more are being added all the time.
Pay As You Go: No Lock-in, No Minimum Sign-up, FREE Set up!
No credit card required
Fully functional trial account
No commitment
For a full list of supported channels, please scroll down on this page.
The channel manager helps properties of all sizes to maximize their online exposure, increase revenue and reduce the time and cost to update rooms.
---
Channel Manager Bed24 - How it Works:

If you maintain multiple calendars on several booking companies .. we can save you lots of time !
We communicate with other Booking Companies ( Booking Engines ) and send them your calendar info automatically
via our "Chanel Manager Software" Beds24. If you join our booking website you will maintain the master calendar on Island Source, and we will update the other booking websites automatically so you save a lot of time. This greatly reduces the possibility of double bookings and just plainly makes your life a lot easier as you only have one calendar to maintain.
* This page explains gives on overview on the capabilities for each channel. 
** Please check individual channels for latest information.
Current Channels Supported with More Being Added all the Time:
Airbnb
Agoda
AsiaRooms
AsiaWeb.com
Atraveo
Automobile Association NZ
BedandBreakfast.eu
Bedandbreakfastworld
Bookit!
Budgetplaces
Expedia
Ezibed
Feratel
Flipkey
Google Hotel Finder/HPA


(coming soon!)

Guestlink.co.uk
Holiday Guide
HolidayLettings.co.uk
Hostels.com
Hostelworld
Hotels.com
Hotelscombined


(coming soon!)

iCal export
iCal import (3 calendar)
Jasons
Lastminute.com
Lastminute.com.au
LateRooms.com
LateStays.com
Tablet
TradeMe
Travelbug
Travel.com.au
Tripadvisor Instant Booking


(coming soon!)

TripConnect
Travelocity
Venere
Visit Scotland
LIST OF BOOKING COMPANIES WE CAN COMMUNICATE WTIH:
Channel
Type
Export Inventory
Export Prices
Export Minimum Stay
Export Multiple Rates
Import Bookings
Import Modifications
Import Cancellations
Add Price Multiplier
Closed on Arrival / Closed on Departure
Export Descriptions
Average Import Speed
Average Export Speed
Notes
API
XML,JSON,CSV
Yes
Yes
Yes
Yes
Yes
Yes
Yes
Yes
No
Yes
Instant
Instant
AAtravel.co.nz
Yes
No
No
No
Yes
No
No
No
No
No
5 min
Agoda.com
XML
Yes
Yes
Yes
No
Yes
Yes
Yes
Yes
No
No
Instant
1 min
AirBnB.com
Ical
Yes
No
No
No
Yes
Yes
Yes
No
No
No
5 min
Set by Airbnb
Atraveo
XML
Yes
Yes
No
No
Yes
No
No
No
No
No
1 min
Bedandbreakfast.eu
XML
Yes
Yes
Yes
No
No
Yes
Yes
No
No
No
1 min
Bedandbreakfast.nl
XML
Yes
Yes
Yes
No
No
Yes
Yes
No
No
No
1 min
Booking.com
XML
Yes
Yes
Yes
Yes
Yes
Yes
Yes
Yes
Yes
No
Instant
1 min
Bookit.co.nz
XML
Yes
No
No
No
Yes
No
No
No
No
No
1 min
Budgetplaces.com
XML
Yes
Yes
No
No
Yes
Yes
Yes
No
No
No
1 min
Expedia.com
XML
Yes
Yes
Yes
Yes
Yes
Yes
Yes
Yes
No
No
Instant
1 min
Ezibed.com
Yes
No
No
No
Yes
No
No
No
No
No
1 min
Feratel
XML
Yes
Yes
Yes
Yes
Yes
Yes
No
Yes
No
No
1 min
Flipkey.com
Ical
Yes
No
No
No
Yes
No
No
No
No
No
Not Applicable
Set by Flipkey
Guestlink.co.uk
XML
Yes
Yes
No
No
Yes
No
No
No
No
1 min
Holidaylettings.co.uk
XML
Yes
No
No
No
No
No
No
No
No
No
Not Applicable
1 min
Homeaway.com
XML
Yes
Yes
No
No
No
No
No
No
No
Yes
Hostelworld.com
XML
Yes
Yes
Yes
No
Yes
Yes
Yes
No
No
No
Instant
1 min
ICal_Export
Ical
Yes
No
No
No
-
-
-
-
-
-
Not Applicable
Set by External System
exports bookings or unavailable dates
ICal_import
Ical
No
No
No
No
Yes
Yes
Yes
No
No
No
15 min
Not Applicable
Jasons.co.nz
XML
Yes
Yes
No
No
Yes
No
No
No
No
No
1 min
LateRooms.com
Yes
Yes
No
No
Yes
No
Yes
Yes
No
No
1 min
LastMinute_com_au
Yes
Yes
No
No
Yes
No
No
No
No
No
1 min
LateStays_com
Yes
Yes
No
No
Yes
No
No
No
No
No
1 min
Tablethotels.com
XML
Yes
Yes
Yes
Yes
Yes
Yes
Yes
Yes
No
1 min
TradeMe
Yes
No
No
No
Yes
No
No
No
No
No
1 min
Travel_com_au
Yes
Yes
No
No
Yes
No
No
No
No
No
1 min
Travelbug
Yes
No
No
No
Yes
No
No
No
No
No
1 min
Travelocity.com
XML
Yes
Yes
Yes
Yes
Yes
Yes
Yes
Yes
No
No
1 min
Tripadvisor
XML
Yes
Yes
-
-
-
-
-
-
-
-
Instant
Instant
booking through Beds24 booking page
Venere.com
XML
Yes
Yes
Yes
Yes
Yes
Yes
Yes
Yes
No
No
Instant
1 min
VisitScotland
XML
Yes
Yes
-
-
-
-
-
-
-
-
Instant
Instant
booking through Beds24 booking page
Wimdu.com
Ical
Yes
No
No
No
Yes
No
No
No
No
No
Wotif.com
Yes
Yes
No
No
Yes
No
No
No
No
No
1 min
Average speeds are indicative only, The actual time taken to complete a individual operation may be faster or slower than the average. Upated: 6/2/2015
CONTACT US VIA 808-987-0920 for more information, or just email us at:
This email address is being protected from spambots. You need JavaScript enabled to view it.