Volcano Vacation Rental: Kilauea Garden Cottage, 1 BR/1BA
Vacation Rental Description
This charming affordable country cottage is perfect for you stay in Volcano Village. Rent as 1 bedroom or 2 bedroom, 1 bath. Maximum Occupancy : 2 people. Very Private, no direct neighbor to the left, right, or behind it, so it is very tranquil. Relax and enjoy the tranquil atmosphere. You are surrounded by lush tropical forest, no neighbor in sight. Totally private, yet in walking distance to the stores, restaurants, and Post Office, and just a short 1 mile drive to the Hawaii Volcanoes National Park. The giant picture window lets you watch the lush forest and visiting song birds while sipping on a cup of hot coco or coffee.
Additional Information
Area activities & places of interest
Exploring Hawaii Volcanoes National Park, Lava Tube, Hiking, Volcano Glow at Night, Island Sight-seeing, Black Sand Beach , Turtles, Botanical Gardens, Waterfalls, Hilo, and more..
Check in times
Any time after 3 PM
Driving directions
26 miles up the hill from Volcano. After the 26 mile marker turn right on Haunani Road.
Airports
26 miles from Hilo airport, 97 miles from Kona airport.
Restaurants
Volcano Village: Kilauea Lodge $$$ Thai Thai Restaurant $$ Volcano Garden Arts Café $$ Café Ohia $ Lava Rock Café $ * closed Sunday and Monday nights. Thuk Thuk Thai Food Truck $ Hawaii Volcanoes National Park: Volcano House $$$ Kilauea Military Camp Cafeteria $ Kilauea Military Camp Bar Kilauea Military Camp Bowling Alley 9 Pin Café (Burgers / Pizza)
Rental Policies
$135 / night for 2-3 night stays.  $35 one-time cleaning fee. 2 day minimum Stay.  2 person maximum occupancy Not suited for children Cancellation Period : 30 days Deposit: 50% with reservation, balance 30 days prior to arrival.
Additional Charges
Here's a list of additional charges that may be applicable to your booking ( Add'l persons over base rate, cleaning fee, etc.):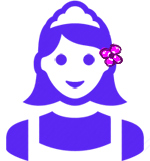 Cleaning Fee incl. Hawaii GE Tax
One-time Cleaning Fee.
$36.46
(4.16%) ( Per booking )
Contact Owner
Please enter the message you'd like to send to the owner of Volcano Vacation Rental: Kilauea Garden Cottage, 1 BR/1BA
Available for bookings
Occupied/Not available
| Rate Name | Rental Type | Min Occup. | Max Occup. | Valid from | Valid til | | Minimum days | Maximum days |
| --- | --- | --- | --- | --- | --- | --- | --- | --- |